Crickets (Caresheet)
MAINTAINING A CRICKET COLONY

If you plan to purchase bulk crickets and keep them for a while until feeding out, it is important to have your holding box set up ready to go before your insects arrive, they will not survive long in their shipping containers so they should be unpacked as soon as they arrive. A plastic tub of around 60-90 litres available from variety stores is ideal. No substrate is required just pile up some cardboard rolls, egg cartons, etc. and if you keep these well below the top of the box no lid is needed. If you really must have a lid make sure it is well ventilated. A poorly ventilated box is the most common killer of crickets as they simply cannot handle stale, moist air so if condensation starts to build up on the inside of the box steps must be taken to alleviate the problem immediately. Cut away at least two thirds of the lid and replace it with metal insect mesh (don't use the nylon product as the crickets will eat through it) or make a new lid made entirely of mesh. Heating is not essential except during the coldest months, in fact keeping them a little cooler is better as it will extend their life expectancy if kept at room temperature (20-25°C).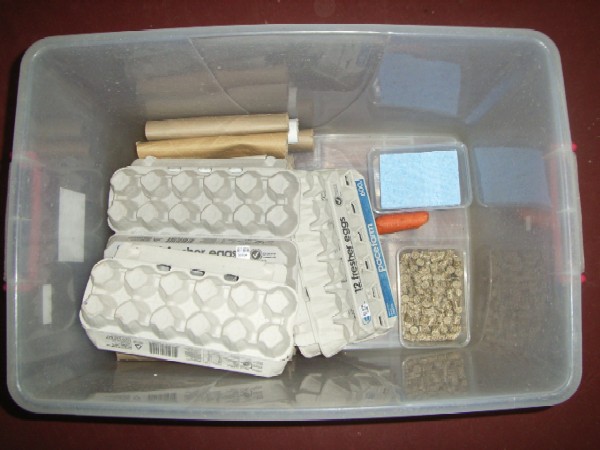 SET-UP FOR MAINTAINING CRICKETS INCLUDING A CONTAINER OF DRY FOOD (IN THIS CASE RODENT PELLETS) AND A DISH CONTAINING A SPONGE FOR WATER
The main diet can be provided in the form of a high quality dry dog food, rodent pellets or, if you want to give them the best possible nutrition, the specially formulated cricket mash available from Livefoods Unlimited. Provide a piece of fresh fruit or vegetable such as carrot, pumpkin, apple, orange, etc. every day and you won't need to worry about a water source, which can get very messy and become a source of disease and infection if not cleaned and sterilized regularly. If you really want to offer a source of water use a shallow dish containing a piece of sponge and don't overfill. Just saturate the sponge and the crickets will suck the moisture from it as required but remember to top it up regularly and discard it and replace with a fresh piece as it becomes soiled. When you are ready to feed your crickets out to your animals simply use the cardboard rolls to shake them into a container, give them a dusting with your preferred calcium/multivitamin powder and you are ready to go.