Shipping & Packaging
All orders for shipping are packed on Monday and shipped on Tuesday of each week, therefore, if you want purchase items to be shipped that week, all orders must be placed and paid for by 5pm eastern standard time the previous Sunday for all orders. We will endeavor to ship orders received soon after the Sunday deadline the same week but this is not always possible due to stock and time constraints, in which case these orders will be automatically shipped the following week. Live insect orders can be shipped Australia-wide including Western Australia and Tasmania.

Delivery times are naturally dependent on location. Metro orders usually take 1-2 days, regional orders 2-3 days but times may vary slightly. Over 99% of all orders are delivered the same week of shipping. Very rarely an order is not delivered until the following week but in most cases the insects are still alive and healthy as all shipments are packed with sufficient dry food and fresh vegetables to last several days. Livefoods Unlilmited does guarantee their insects will be delivered in good condition (see FAQ page for more information on our guarantee and conditions).

Orders are sent in either postal tubes for small orders or ventilated cardboard boxes for larger and mixed orders. The latter are the most economical for bulk orders and 1-4 bulk bags can be packed inside each carton. For details of the cost of shipping see our Freight and Postage page.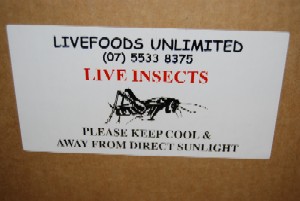 MAIL ORDER LIVE INSECTS ARE PACKED IN CALICO BAGS INSIDE CUSTOM CARDBOARD BOXES WITH CLEAR CONSPICUOUS LABELING ENSURING THE INSECTS ARRIVE IN THE BEST POSSIBLE CONDITION
All shipping options are designed to minimize transport time and stress on the insects to ensure they arrive in good order. Insects are either packed inside free-breathing calico bags within custom designed and manufactured vented cardboard boxes or are free-range in vented mailing tubes, all apprpriately labelled to minimize the chance of stress during transit. These packaging materials have been designed and are custom-made to provide the insects with the best possible conditions during shipping and are included in the freight charge for each order. These shipping containers only serve as transport containers and all insects should be unpacked immediately on arrival as they will not survive for long in their shipping containers and may even chew their way out of calico bags. All crickets and cockroaches are packed with cardboard rolls, egg cartons or shredded paper for protection during transit, while giant mealworms are transported in bags of their food media. All are also provided with fresh vegetables to provide additional sustenance and moisture during travel.

The main issue affecting the well-being of insects during shipping is heat and all shipments are labeled appropriately to highlight this to transport companies. They are fairly tolerant of cold temperatures (within reason) but temperatures in excess of 35°C for an extended period may prove fatal so it is worth considering this when placing an order if heat wave conditions are expected. In the 10+ year period Livefoods has been operating we have lost less than a dozen shipments due to inappropriate transport conditions. In the unlikely event that your order does arrive the worse for wear after shipping take a photo and send it through to livefoods@outlook.com and we will replace your order free of charge )conditions apply see the FAQ page).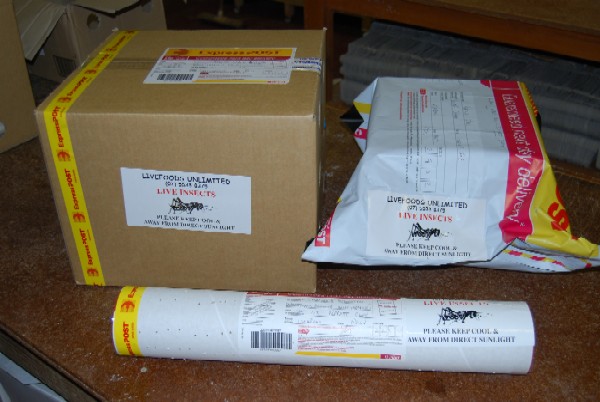 EXAMPLES OF SHIPPING METHODS FOR LIVE INSECTS WITH EXPRESS POST SERVICE. THE SATCHEL (TOP RIGHT) IS VENTILATED WITH A SERIES OF WIDE VENT HOLES CUT ALONG BOTH SIDES AND ACROSS THE FAR END.