Wood Cockroaches (Caresheet)
MAINTAINING A WOOD COCKROACH (WOODIES) COLONY

Housing your colony of wood cockroaches (woodies) either for feeding or breeding is quite straightforward. Any reasonably large plastic container will suffice (e.g. about 50 litre capacity or larger) such as a storage roller box or rubbish bin. Provide plenty of hiding places in the form of egg cartons, cardboard rolls, etc. and you are ready to go. The big difference between woodies and other insects such as crickets are that they are expert escape artists and will climb up any surface regardless of how smooth it is. To retain them in a holding container something must be painted around the inner rim to either deter them from climbing out (e.g. Vaseline, although this can get very messy) or to physically stop them from being able to grip the plastic sides. The latter technique is best achieved with a product called Fluon, a white, water-based product currently available to purchase on our Insect Care page. A 25-30mm strip of this is painted onto the inside top of the holding tub and allowed to dry before the insects are introduced. Once fully cured the cockroaches are unable to climb across the strip and simply fall back into the holding container. The material needs to be reapplied every 2-12 months depending on how quickly regular handling, cleaning, etc. of the holding tub wears off the strip.


SET-UP TO MAINTAIN COCKROACHES. NOTE FLUON STRIP AROUND THE TOP TO STOP INSECTS CRAWLING OUT
They are not fussy about their food requirements but naturally the higher quality the diet the more nutritious they will be for your animals. A good brand of high protein dry dog food or rodent pellets would be fine or you can purchase high quality pellets from Livefoods Unlimited. The dry food should be available at all times and supplemented every day with fresh vegetables and or fruit. Items that are dense and high in moisture are best such as carrots, pumpkin, apple, sweet potato, etc. If you are offering green leafy vegetable make sure these are washed thoroughly beforehand as they sometime contain traces of residual pesticides. By offering fresh food daily there is no need to provide messy water receptacles for drinking as they will obtain all their moisture requirements from their diet. Keep the box at room temperature (20-25° C) and this will extend their longevity, higher temperatures will speed up their growth rates but will also accelerate their metabolism and reduce their life expectancy.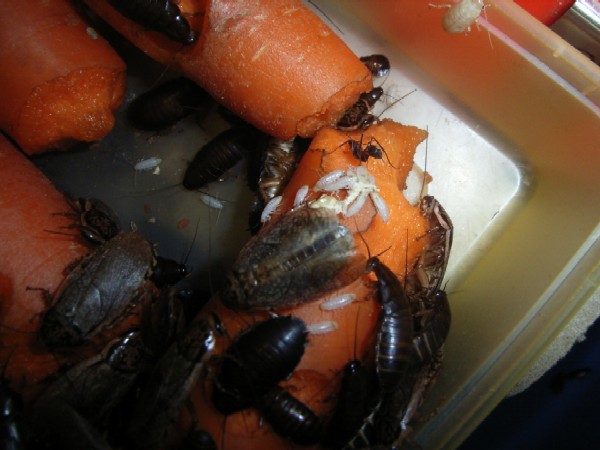 NEW-BORN WOOD COCKROACHES AND THOSE THAT HAVE RECENTLY SHED THEIR SKIN ARE WHITE UNTIL THE DARK PIGMENTATION DEVELOPS