Fringe-toed Velvet Gecko (Caresheet)
CAPTIVE HUSBANDRY

As a tropical species, Fringe-toed Velvet Gecko's (Oedura filicipoda) need to be kept a little warmer than many Australian geckos. Winter minimums of 18-20°C are fine and during the warmer months the cage ambient should be in the high 20s with a warmer spot of around 32°C. They are agile climbers even scaling glass with out a problem so the enclosure needs to be secure and be taller than it is wide. A cage around 60 x 40 x 60 cm high is suitable for 2-3 lizards, usually a pair or a male and two females. A humid hide box filled with most sand or sphagnum moss should be provided at all times and the geckos will use this when they are ready to shed their skin and also as an egg-laying site for the females. Regular spraying of the enclosure is essential particularly for juveniles which seem to suffer from dehydration very easily. They are not fussy about their diet but tend to have a less aggressive appetite than some of their velvet gecko relatives. Crickets and woodies are readily accepted and should be dusted with calcium powder/multi-vitamin mix once per week.

CAPTIVE BREEDING

Fringe-toes aren't as productive as some of the other velvet gecko species. Females will usually only produce 2-3 clutches of two eggs per season starting in late September and usually finishing in December. Eggs will be laid in a moist hide box, preferably one with an entry hole in the top. Eggs will hatch in about 65 days at 28-29°C. Hatchlings will begin to feed about 5 days after hatching readily taking large pinhead crickets, although like the adults their appetites are restrained and growth rates tend to be relatively slow reaching maturity in about 3 years. Keep hatchlings well hydrated by spraying the enclosure 3-4 times a week and provide a small humid hide box at all times.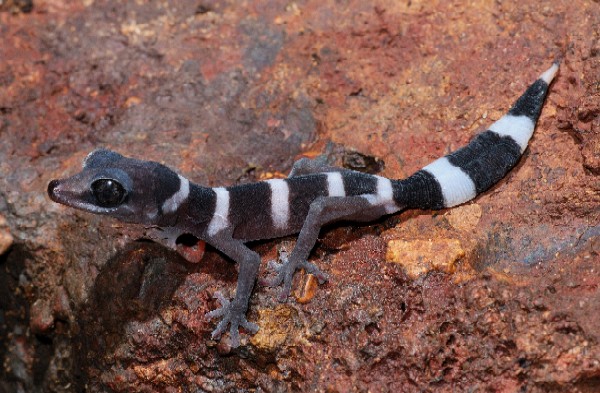 HATCHLING FRINGE-TOED VELVET GECKO SHOWING THE TYPICAL STRIKING BANDED PATTERN OF NEWLY HATCHED INDIVIDUALS