Golden-tailed Gecko (Caresheet)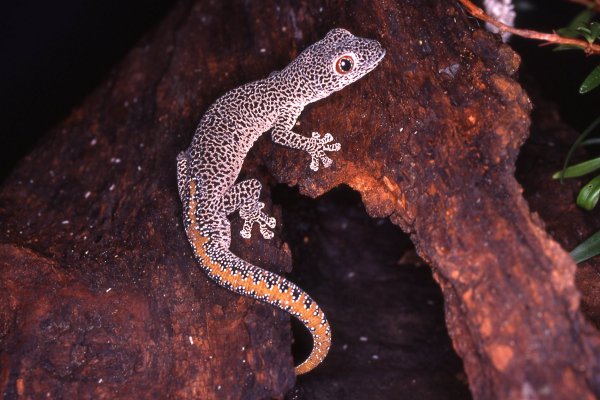 CAPTIVE HUSBANDRY

Golden-tailed Gecko's (Strophurus taenicauda) are not large lizards, usually only reaching about 70mm in snout-vent length so 1-3 can be adequately housed in an enclosure measuring around 450x450x450mm. Ashallow fine sand substrate is ideal and a range of thin climbing branches should be provided to give access to the entire cage. A few vertical strips of stacked tree bark in one corner will provide additional hiding spots. A low-wattage bulb in one corner providing a hot spot in the low 30's is sufficient or alternatively a small heat pad beneath one corner of the base of the cage will also suffice. Unlike most geckos, it may be beneficial to provide some UV light for golden-tails. Their habit of roosting during the day on branches may mean they have developed a requirement for UV exposure although there has yet to be any evidence of this in captivity. However, I prefer to provide some low level UV light either in the form of a 20watt dichroic bulb or a commercially available 2.0 UV fluorescent globe. Spray the entire enclosure 1-2 times a week with water and the geckos will often emerge to lick up the droplets. Like others in their group golden-tails have big appetites and will readily consume surprisingly large insects, often taking 3-4 at each sitting. Adults should be fed 2-3 times a week in summer, juveniles and gravid females every other day.

CAPTIVE BREEDING

Three or four females can be successfully housed with a single male and all should breed if conditions are right. The eggs are small (about 4-5mm long) and are laid in a plastic container containing a moist substrate or sphagnum moss, with an access hole cut in the side. With plenty of food females will happily lay 4-6 or even more clutches in a season. When incubated at 27-29°C the eggs will hatch after bout 60 days. The hatchlings are quite dull when compared to the adults which is unusual for lizards where the babies are usually more brightly coloured. 2-3 hatchlings can be raised together in a small raising cage and fed large pinhead crickets liberally dusted with calcium and multivitamin powder. They grow very quickly and can reach adult size and breed in their first year, although this is not advisable.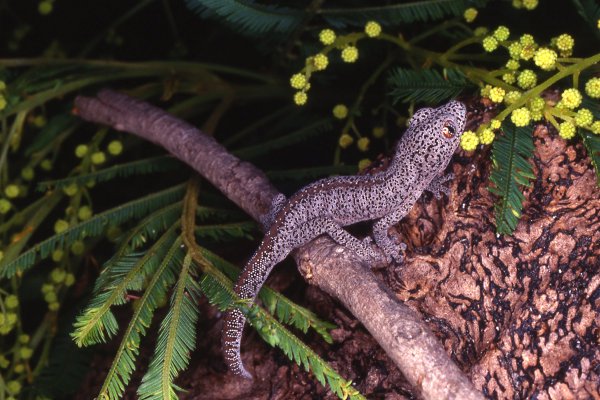 JUVENILE GOLDEN-TAILED GECKO APPROXIMATELY THREE MONTHS OLD. NOTE THE ORANGE TAIL MARKING ARE NOT AS BRIGHT AS THE ADULT SHOWN ABOVE